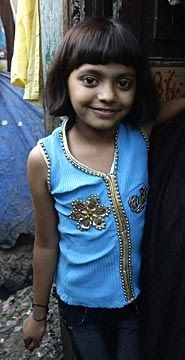 Wow, this is not only depressing, but very fucked up. Apparently, the father of "Slumdog Millionaire" actress Rubina Ali attempted to sell her off for £200,000 in an illegal adoption deal. What the French?! This tragic turn for the young star emulates the same kind of effed up stuff that happened to the characters in the film, and now that it is being publicized, his father is backpeddling ... and fast. Photos show Danny Boyle, the film's director, escorting the younger Ali away from her father's home, in which they apparently lived in extreme poverty.
How sad! The actress' fate is up in the air right now, but there is some light at the end of the tunnel - there is a trust in her name that will be released to her when she turns 18. It has also been arranged for her to attend a UN school in her native India, which would assure her a secure future. Now, all that needs to be done is to put Ali into a home where she won't be auctioned off and sold like a slave.
Good luck with that one!
To get the actual article,
click here
.