Some of these "love letterz" will be sad, some will be happy - some will be weird, inside jokes, or funny. Love, in this sense, can be between friends or lost romantic endeavors. None of them will be embarrassing.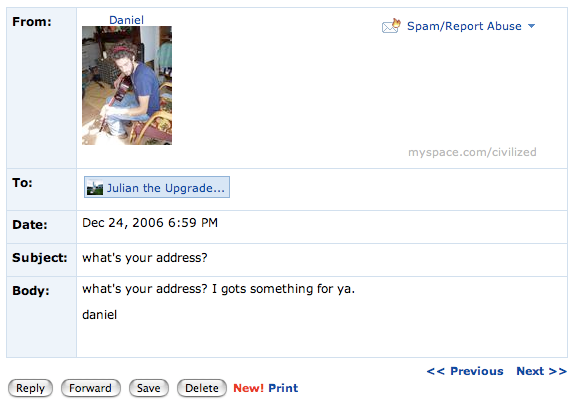 Daniel, or "Dirty Daniel" as my friends and I called him, was the only person I've ever dated after another friend. Amar went on a few dates with this kid and dumped him after realizing that he was way needy, and really,
really
dirty. After I dated him, close relations of mine even said that drugs were also a prevalent factor.
He was a sweetheart, though, and often sent me things in the mail. When we'd make plans to see each other, he'd bring me small gifts - whether they were flowers, books or something to eat. This letter makes me happy because it marked the beginning of the correspondences. I don't remember what he mailed this first time, but the warm feeling that it was intended to deliver still sits with me to this day.