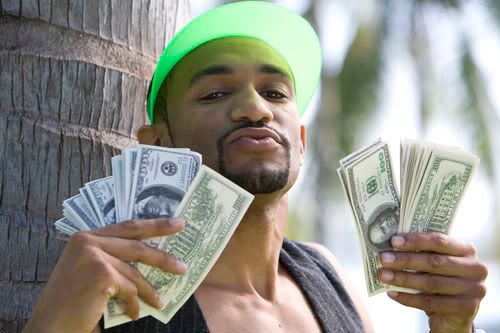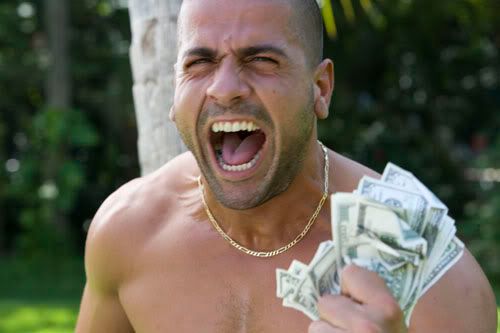 So, in a bid to redeem myself for failing to update you guys on these shows in a timely manner, I'm going to update you on both episode 7 and episode 8 of "I Love Money 2" today, even though I haven't even seen the latest episode just yet. Last week, Bonez was eliminated by Angelique, who was "paymastair." She refused to sabotage her alliance with 20 Pack and Becky Buckwild, mostly because she spent about thirty minutes of screen time trying to get 20 Pack's junk. She's also somehow managed to fill the Leilene-shaped hole in the Buckwild-Saaphyri friendship alliance, which has been more bizarre to me than anything. In any case, I never really was a fan of Bonez, so you can imagine why it took me so long to update.
Episode 8 was more "Entertaining," however, when the Entertainer was sent home by Tailor Made, the founder of the counter-alliance. Saaphyri, in a clever stunt to save her ass, made it very well known fact what a big threat the Entertainer was to her entire team, coaxing them all to vote him into the box after their team failed to win the challenge. When time accidentally ran out on the clock, Tailor Made was allowed to pick his own three to go into the box, and he chose wisely: Angelique, Saaphyri and The Entertainer, three members of the dominant alliance that had been picking off weaker characters since the beginning.
During the power outing, Angelique proved to be incredibly good at rock climbing, and the others began to wonder if Frenchy was an undercover threat. Tailor Made, however, spared her first, and then promptly proceeded to void The Entertainer's check, knowing that Saaphyri was right - he had to go because he was a huge threat. However, with her ability to switch sides and really outsmart other people at the game, I'm starting to think that Saaphyri may be, again, the one to reckon with.
Ten people remain, and from now on, there are no teams!