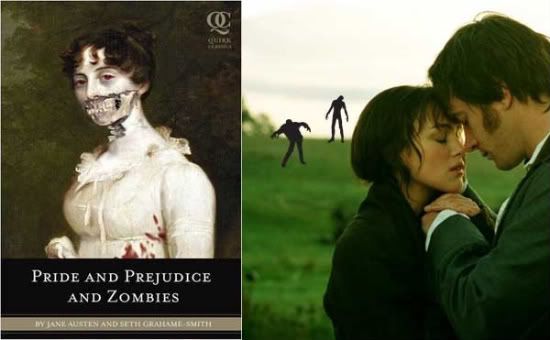 So good! Finally, someone has done what we've all been waiting for - updated "Pride and Prejudice" to include ... you got it, zombies! How did you know? Seth Grahame-Smith wrote the following synopsis of his new book:
"As our story opens, a mysterious plague has fallen upon the quiet English village of Meryton—and the dead are returning to life! Feisty heroine Elizabeth Bennet is determined to wipe out the zombie menace, but she's soon distracted by the arrival of the haughty and arrogant Mr. Darcy. What ensues is a delightful comedy of manners with plenty of civilized sparring between the two young lovers—and even more violent sparring on the blood-soaked battlefield as Elizabeth wages war against hordes of flesh-eating undead."
Heroine Bennet and her four sisters become zombie slayers who would even give Buffy a run for her money, complete with Japanese ninja moves taught to them by Mr. Darcy.
Can't wait to get my hands on a copy! Put yours on your wishlist today!
Courtesy of www.zoomdoggle.com.