So, telling you all about San Francisco would get boring and tedious in just words (I know myself too well), so I picked out the top twelve images that pretty much encompass the wonderful awesomeness that was my semi-annual return home to California. So, without further adieu, we begin...
1. Coming into the City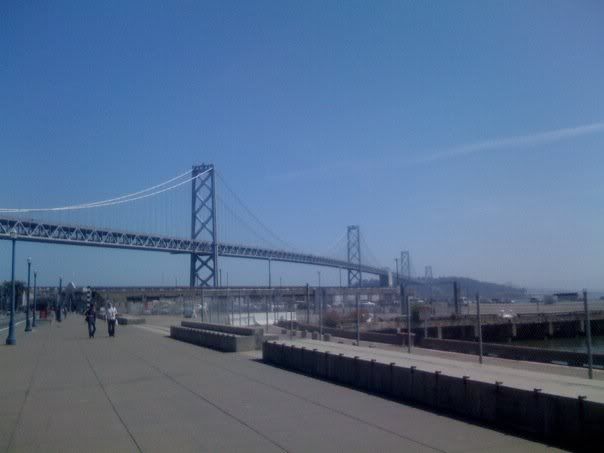 I got into San Francisco late on Wednesday night, so my first real day was Thursday. Melissa told me she'd meet me at the
Ferry Building
, which sits on the waterfront at Pier 1 on the Embarcadero. It used to be a train depot, but now serves as a marketplace for bougie yet wonderful sustainable foods and products. The original goal was to eat there, but it didn't end up happening because the place we wanted to go wasn't serving food anymore. We decided to find something else. This photo was taken en route to the Ferry Building.
2. Dim Sum at Yank Sing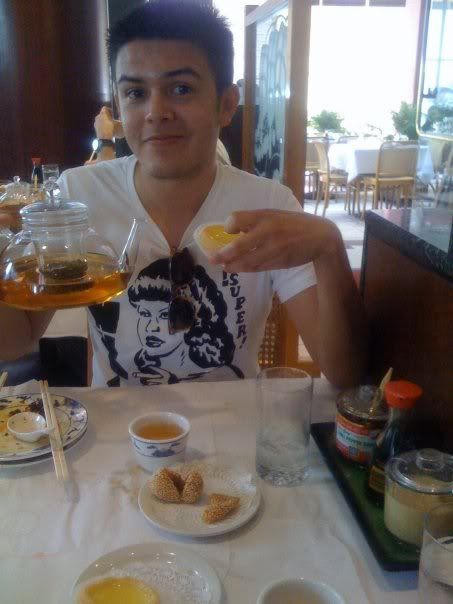 Yank Sing
is my favorite Dim Sum restaurant in San Francisco, mostly because I have generated so many good memories there over the course of the years. After my graduation from middle school, we went there to celebrate, and although it is a bit pricey and they don't serve alcohol, it was still fun to go and enjoy Melissa's company. We got high on tea and pork buns. It was truly a wonderful meal that doubled as a homecoming gift of sorts ... and a tasty one at that!
3. Margaritas in the Mission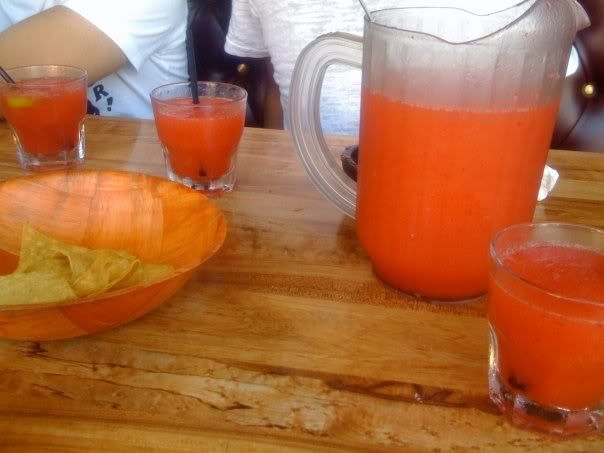 I used to hang out in
the Mission district
a lot, recognized for its large Mexican population, and, noticeably, an increasing rise in hipsters and young professionals. Its slowly gentrifying, and so it currently holds a strange yet exciting feeling of worlds merging and melding together. Because I'm a firm believer in the phrase, "when in Rome," we got a couple of pitchers or margaritas, which Amar helped us drink when he got there. They also had strawberry flavor, which was a definite plus.
4. Champagne in Dolores Park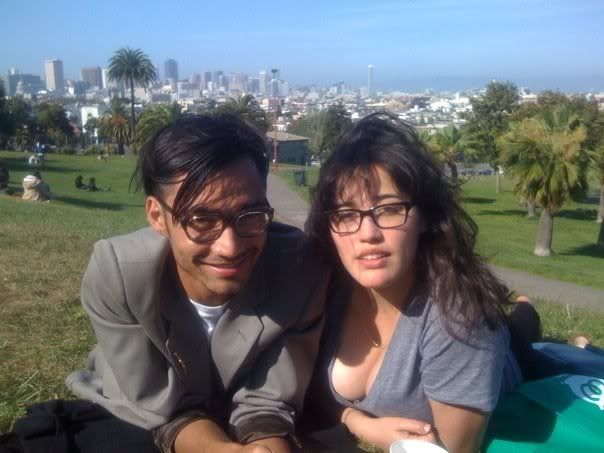 My favorite place in San Francisco, easily, is
Dolores Park
. Nowhere else in the city can you get an amazing city view, one dollar
paletas
of any flavor, a front row seat to witness hipster and gay culture, or more beautiful weather. Because I was in such a great mood that day, I bought a bottle of champagne and Amar, Melissa and I shared it in Dolores Park as the sun set. You can't get any more San Franciscan than that.
5. Popscene with the Girls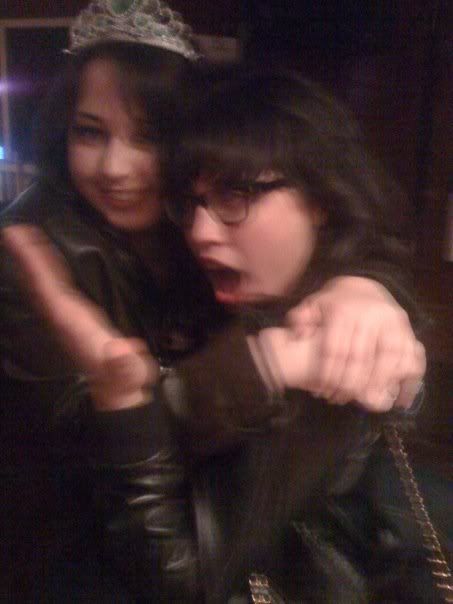 I met up with Sophia later that night and the two of us decided that we would go to
Popscene
, one of our old hangouts when we were still under drinking age. Its an 18+ club so we never were illegally there, and they are one of the few clubs in the city that tears up awesome 80s and contemporary New Wave and indie pop so that city kids can dance. We met up at her place, and went to a liquor store in the Castro, then met up with Melly G at the Mix. After a couple of drinks there, we all decided to head over to Popscene, where we had way too much fun. For the first time in years, I became designated driver.
6. Preparing for the Party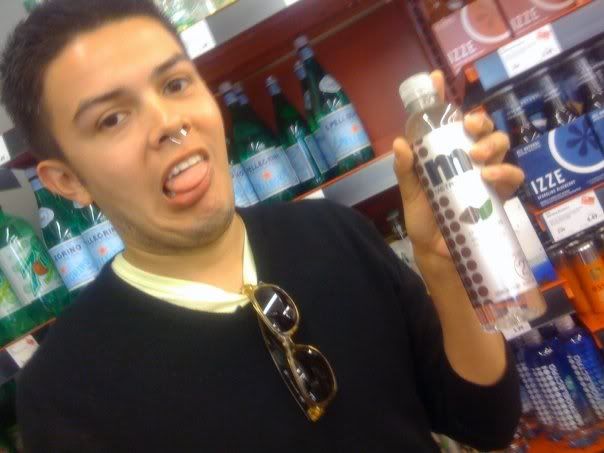 The following day, I met up with Melissa and her dad to make arrangements for her graduation party. We went to Beverages and More to get her friends who were getting married a bottle of whiskey, and also some champagne for us. We ended up getting two awesome bottles of champagne, which we only ever drank one of. This photo is from the checkout line at BevMo, in which we noticed that Metro water came out with a chocolate mint flavored disaster that looked just awful. Yikes.
7. Lunch at Delfina Pizzeria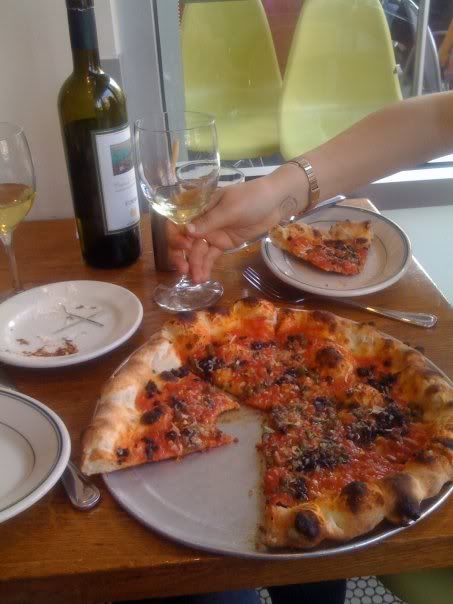 Holy, crap, yo, I love me some
Delfina pizzeria
. Situated around the corner from Dolores Park, on the intersection of Gay and Hipster, this small restaurant seats maybe forty people at a time, and always has a wait. However, the wait is worth it, and although we initially wanted patio seating, our table ended up being on the inside of an open window, which was all good with us. This photograph is of our delicious lunch, sans the tasty tri-colored salad we had to start. With a bottle of wine and a cheeseless pizza, we couldn't be happier. Or drunker!
8. The Graduation Party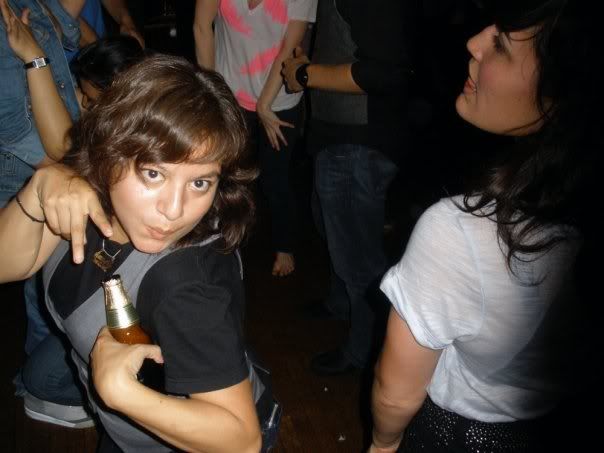 Melissa, being the rockstar that she is, booked an entire gallery/bar space for the night with a co-worker for her graduation party. After I dropped her off early, I took off to meet up with Angela at Van Ness and Market. We stopped at Chevy's on the way back to the party to grab a couple of ultimate margaritas and some nachos. The photo is of Melissa and Angela dancing, which was the image I want to remember forever of this night. Melissa was totally on cloud 9, the music was bangin' (they played "Kids" by MGMT which I love), and the drinks were good. I won't mention the fist fight I got into afterwards. These are supposed to be happy thoughts!
9. The Graduation
The following night was the graduation. I sat with Melissa's family (her dad, uncles, aunts, and cousins) to witness her receive the degree she'd been working towards for the past five years of her life. It truly was an awesome moment. Her dad was infinitely proud of her, as exemplified by the photograph above. Unfortunately, shortly after this moment, I had to cut out to meet up with my own father, to make the three-hour journey down to Fresno for...
10. The Gangsback Reunion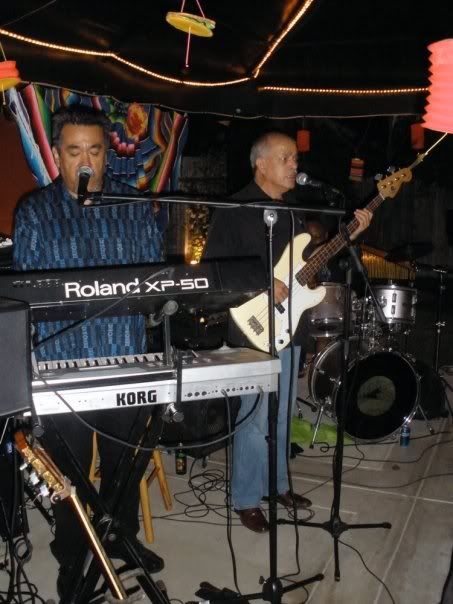 In the mid-80s, my dad was part of a popular group called Gangsback, a band that wrote original pieces but also covered popular hits of the time for people to dance to at clubs. In Fresno, CA, there was a reunion of sorts, twenty-seven years after the initial band had been created. Although, at different points of the band's incarnation, my dad had played keyboards, drums, lead guitar, bass guitar, lead vocals, among others, he played the bass and sung that evening. Once again, I was designated driver, as my dad truly let his hair down and was taking tequila shots at one in the morning. Now I know where i get it from!
11. If You've Never Been To Fresno...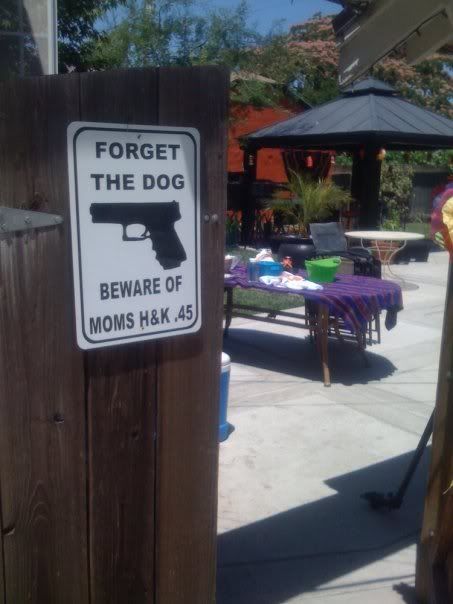 ...then this photo should certainly sum it up for you! I don't think much else needs to be said.
12. Jaunt to the Russian River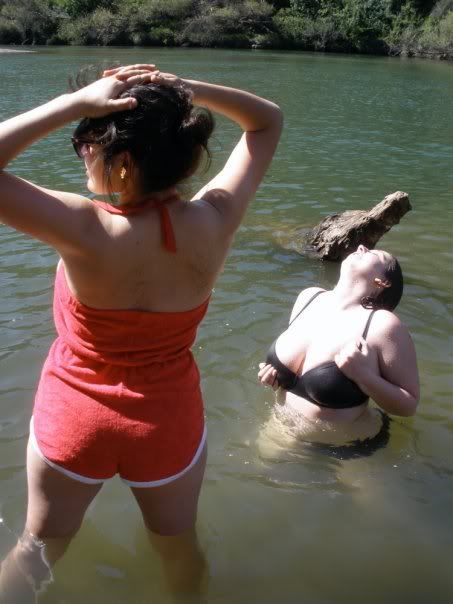 It was nice to get out of the city once, and so Melissa, Sophia and I decided to do it again on Monday, the last full day I was in San Francisco. Guerneville, CA is only one hour north of the city by the bay, and so the three of us went up there, got a ton of food at Safeway, and proceeded to pig out and swim all day long. It will forever be one of my favorite memories ever, because it was so peaceful, and the company so great.
---
Although there are a ton of other awesome memories I made while out in San Francisco (Nopalito with dad, oysters and champagne with Melissa), these are the ones that were captured in photographs. I hope you enjoyed, and now understand why I couldn't update as much as i usually do on my trip! Love yous!